Anyone who's known me for five seconds knows how important diversity and inclusion is for me. Being a double minority myself, I've campaigned long and hard for it in real life, online and in the media. And with one novel under my belt, I'm striving to take that work to the next level. Being a proud comic book geek, obviously the inclusion of women, people of color, LGBTQs, disabled, etc. is also something important to me.
I would love nothing more than to see a black Spider-Man or a black Wonder Woman and any real efforts to make that a reality, I would be down for. In fact, I'd be on the front lines fighting to make that happen.
All of that said, I'm gonna need white fandom to stop pimping these bogus letter writing "campaigns" to racebend white characters in fandom. Because quite frankly, you're not doing POCs any favors.
Before I go any further, let me be clear. I'm not talking about the fun racebending reimaginings memes and posts that bloggers do or the fantasy castings. I love that shit. It's awesome. Keep doing it.
Hell I do that myself:
CASE IN POINT!!!!
I'm talking about these bogus ass campaigns and petitions from white folks which do more harm to genuine and legitimate efforts.
Why are they doomed from the start? Usually because they're primarily run by fauxgressive white fauxial justice circle jerks who think they're more equipped to battle the institutional oppression of racism better than POCs. Nevermind the fact that as POCs, having the insight and understanding the dynamics of activism, is part of our culture. But no, Mighty Whitey always knows best.
White most white folks don't understand is that protesting and campaigning is more than sending an email to a movie studio or going to a weekend pep rally that constitutes a protest. It takes boycotts, sacrifice, it means coming out of your comfort zone and willing to suffer for progress and a greater good. Most whites don't get this and many of them don't want to. Because to do so would threaten the entitlement and perks that come with white privilege.
And typically fauxial justice white fandom who clutch their pearls and place the back of their hands on their foreheads and put on the performance for the ally medal.
"OH HOW I WISH THEY HAD MADE DOCTOR WHO BLACK, IT'S SO TRAGIC THAT THEY DIDN'T. AND HOW I WISH THE WINCHESTER BROTHERS WERE LATINO. I SOOOO WOULD SUPPORT THAT."
And don't be a POC who actually tries to give them advice on how to campaign the right way. Because it will NEVER end well.
"Hey guys, I would love nothing more than to see a black Spider-Man but given the dynamics right now, it probably wouldn't go over. So since diversity is the ultimate goal, rather than racebending pre-existing white characters and getting a lot of pushback, let's promote and celebrate the wonderful characters of color and put them in the spotlight. Rather than casting Gina Torres as Wonder Woman, let's cast her as Nubia or Vixen or better yet Storm and give her a solo spinoff film. And rather than having Donald Glover play Spider-Man, let's campaign to make a Static Shock movie. After all, Static Shock is for all intents and purposes a reimagining of Spider-Man, he's had a hit cartoon series and that might actually be a better pitch."
At this point, I'm usually getting this reaction: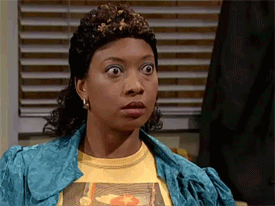 Pssst. Neo, we white folks really don't want to see a POC-lead fandom flick happen. This is how we pass the time online, get our ally cookies and get off rubbing it in POCs faces why we're better than them.
The thing is they make a fucking mockery of the issue that they're essentially adding salt to a wound they caused by rubbing POCs noses in the fact that we're marginalized in a backhanded passive aggressive manner. So to the 90 percent of white fandom who talks all this shit about how they want to see more diversity and how they would so support it, I just have this to say: STOP LYING!!!!!!
You would not support a black Spider-Man, anymore than you would support a black Wonder Woman. You fauxgressive white folks, more than the conservatives would be the main ones trying to dismantle any efforts of seeing that movie or efforts happen. When POCs get supporting roles and break ground, white fandom flips its shit every fucking time.When Doctor Who got a black companion, legions of white fan girls bawwed because their pretend alien boyfriend got stolen by that uppity Negress. Nyota Uhura is STILL catching shade for kissing Spock in NuTrek even though the attraction between those two has been canon for decades. When an Asian heroine with disabilities became Batgirl, we saw how quick fandom hemmed and hawwed when she got thrown under the bus both in the comics and out of it for an incompetent white replacement.
The beautiful and talented Angel Coulby has been catching heat something fierce from white bigots because OMG! Guinevere is a black girl on Merlin. We can't have that. And many white Merlin fans would rather see Arthur with Morgana than that icky Negress. That's right, white bigots would rather see Arthur banging his evil sister than with the black girl. And to the Coulby haters, [points at pic below]. Now play with it!
How many Speedy Gonzalez jokes got made about Kyle Rayner when it was revealed he was half-Mexican.
Hell, look at how you treat POCs in your motherfucking spaces. How many racefails have gone down and how many times have POCs been cyber-lynched in these spaces. And then ya'll wonder why we don't fuck with you.
The bottom line is, there's only a handful of whites who are genuinely trying to bring about change. The rest of you.....fuckers please. You're not doing me or mine any favors and you're not fooling anyone other than yourselves. If you genuinely wanted more diversity, you would step out of your comfort zones, check your privilege and do these campaigns right. If you genuinely wanted diverstiy and POC-centric movies to be a reality, it would've already happened.